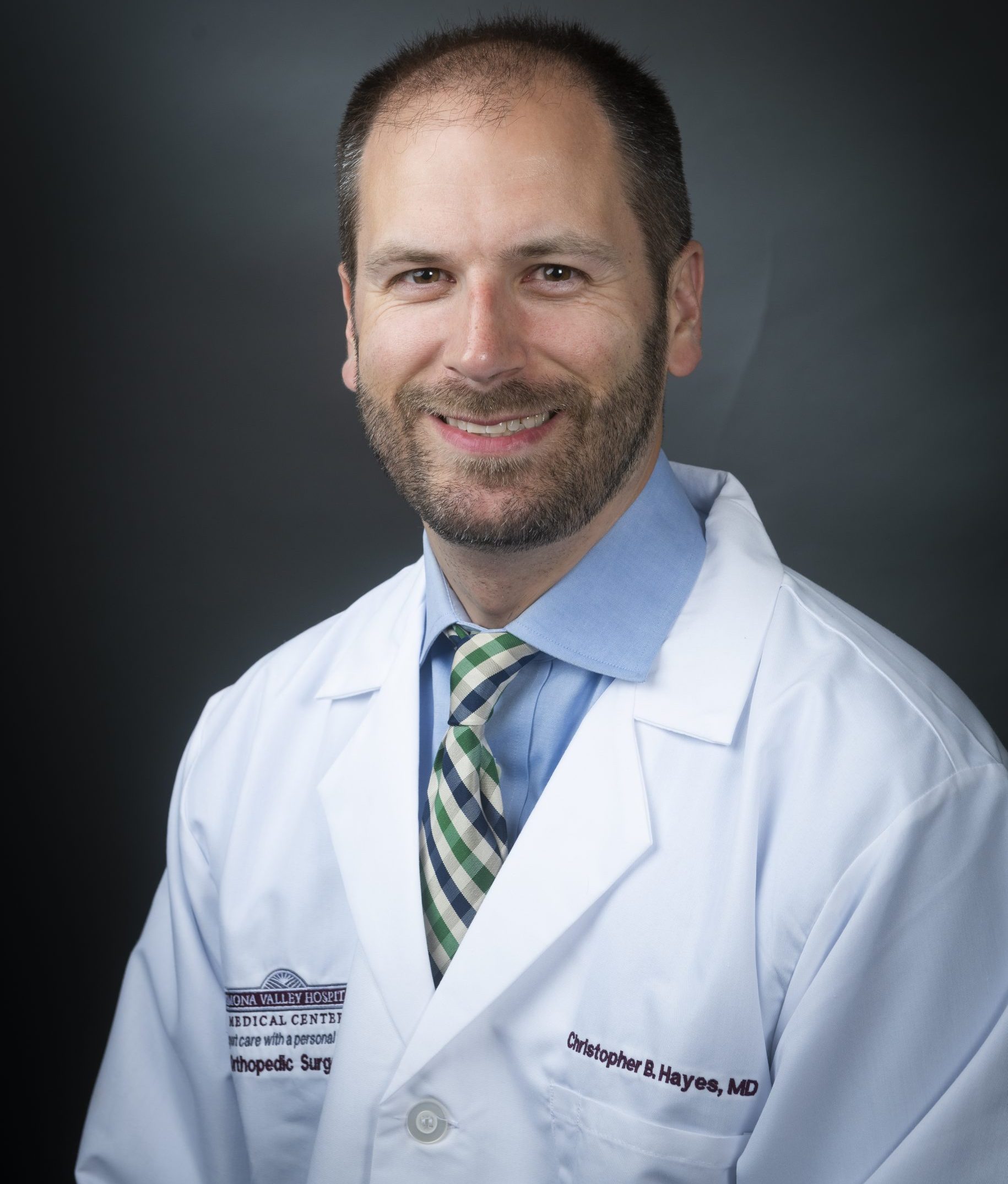 Christopher B. Hayes, MD
Elegible para Certificación, Cirujano Ortopédico
Cirujano de Traumatología Ortopédica
Pomona Valley Hospital Medical Center
El Dr. Hayes es un cirujano ortopédico elegible para la Junta que se especializa en cirugía de traumatología ortopédica, traumatismo pélvico y acetabular complejo, corrección de la falta de unión y deformidad e infecciones óseas. Originario de Nueva York, recibió su Licenciatura en Ciencias de SUNY Geneseo y su título de médico de la Universidad de Buffalo. Luego viajó al Centro Médico de la Universidad de Kentucky, donde se dio cuenta de su deseo de buscar atención para el trauma ortopédico. Luego viajó a la Universidad de California en Davis en Sacramento, California. Mientras estuvo allí, aprendió las últimas técnicas y enfoques para casos complejos de trauma de cirujanos de renombre mundial. Luego pudo viajar a Davos, Suiza, donde estuvo expuesto a tratamientos y tecnologías alternativas. Luego fue reclutado para el sur de California para continuar atendiendo a pacientes con lesiones traumáticas complejas y fracturas mal curativas.
El Dr. Hayes disfruta de traducir su conocimiento y habilidad expertos en atención individualizada en un plan fácil de entender.
Su filosofía de atención al paciente combina la compasión de alto nivel, el apoyo y la personalización de las lesiones, necesidades y forma de vida de cada paciente. El Dr. Hayes disfruta de traducir su conocimiento y habilidad expertos en atención individualizada en un plan fácil de entender. Él cree en una estrategia integral de tratamiento que incluya el trabajo cercano junto con nuestros cirujanos de cirugía general, personal de enfermería, terapeutas físicos y ocupacionales y proveedores de atención primaria para optimizar la recuperación del paciente y acelerar la rehabilitación. Utiliza el manejo conservador y quirúrgico con un enfoque en los principios de fractura, fijación estable y movimiento articular temprano para mejorar y promover la curación del paciente, la rehabilitación y el retorno a la función.
Especialidades
Traumatologia Ortopedica​
Fracturas de las extremidades superiores e inferiores
Fracturas pélvicas y acetabulares
Cirugía de revisión de fracturas
Corrección de la deformidad
Licencia y Certificación
State Board of California
American Board of Orthopaedic Surgery, Board Eligible
Afiliación
Orthopedic Trauma Association
American Academy of Orthopedic Surgery
Fellowship in Orthopaedic Trauma
University of California at Davis, Sacramento, CA
Residencia en Cirugía Ortopédica
University of Kentucky Medical Center, Lexington, KY
Escuela de Medicina
University of Buffalo, Buffalo, NY
La Educación de Pregrado
State University of New York, Geneseo, NY
Investigación y Educación
El Dr. Hayes ha publicado varios artículos en el campo del trauma ortopédico.
Hosseinzadeh P, Hayes CB. Compartment Syndrome in Children. Orthop Clin North Am. 2016;47(3):579-587. doi:10.1016/j.ocl.2016.02.004
Cronin KJ, Hayes CB, Moghadamian ES. Early-Onset Fat Embolism Syndrome: A Case Report. JBJS Case Connect. 2018;8(2):e44. doi:10.2106/JBJS.CC.17.00175
Hayes CB, Murr KA, Muchow RD, et al. Pain and overcorrection in clubfeet treated by Ponseti method. J Pediatr Orthop B. 2018;27(1):52-55. doi:10.1097/BPB.0000000000000442
Zuelzer DA, Hayes CB, Wright RD, Duncan ST. Femoroacetabular impingement as a complication of acetabular fracture fixation. Trauma Case Rep. 2018;18:56-59. Published 2018 Oct 13. doi:10.1016/j.tcr.2018.07.003
Burnham JM, Howard JS, Hayes CB, Lattermann C. Medial Patellofemoral Ligament Reconstruction With Concomitant Tibial Tubercle Transfer: A Systematic Review of Outcomes and Complications. Arthroscopy. 2016;32(6):1185-1195. doi:10.1016/j.arthro.2015.11.039
Cronin KJ, Hockensmith L, Hayes CB, Zuelzer D, Jacobs CA, Moghadamian ES. Are Routine Postoperative Computer Tomography Scans Warranted for All Patients After Operative Fixation of Pelvic Ring Injuries?. J Orthop Trauma. 2019;33(10):e360-e365. doi:10.1097/BOT.0000000000001548
Duncan ST, Hayes CB, Nunley RM. Fracture at the Modular Junction of a Cementless Revision Hip System: A Case Report. JBJS Case Connect. 2016;6(2):e48. doi:10.2106/JBJS.CC.15.00089
Hosseinzadeh P, Steiner RB, Hayes CB, et al. Initial Correction Predicts the Need for Secondary Achilles Tendon Procedures in Patients With Idiopathic Clubfoot Treated With Ponseti Casting. J Pediatr Orthop. 2016;36(1):80-83. doi:10.1097/BPO.0000000000000407