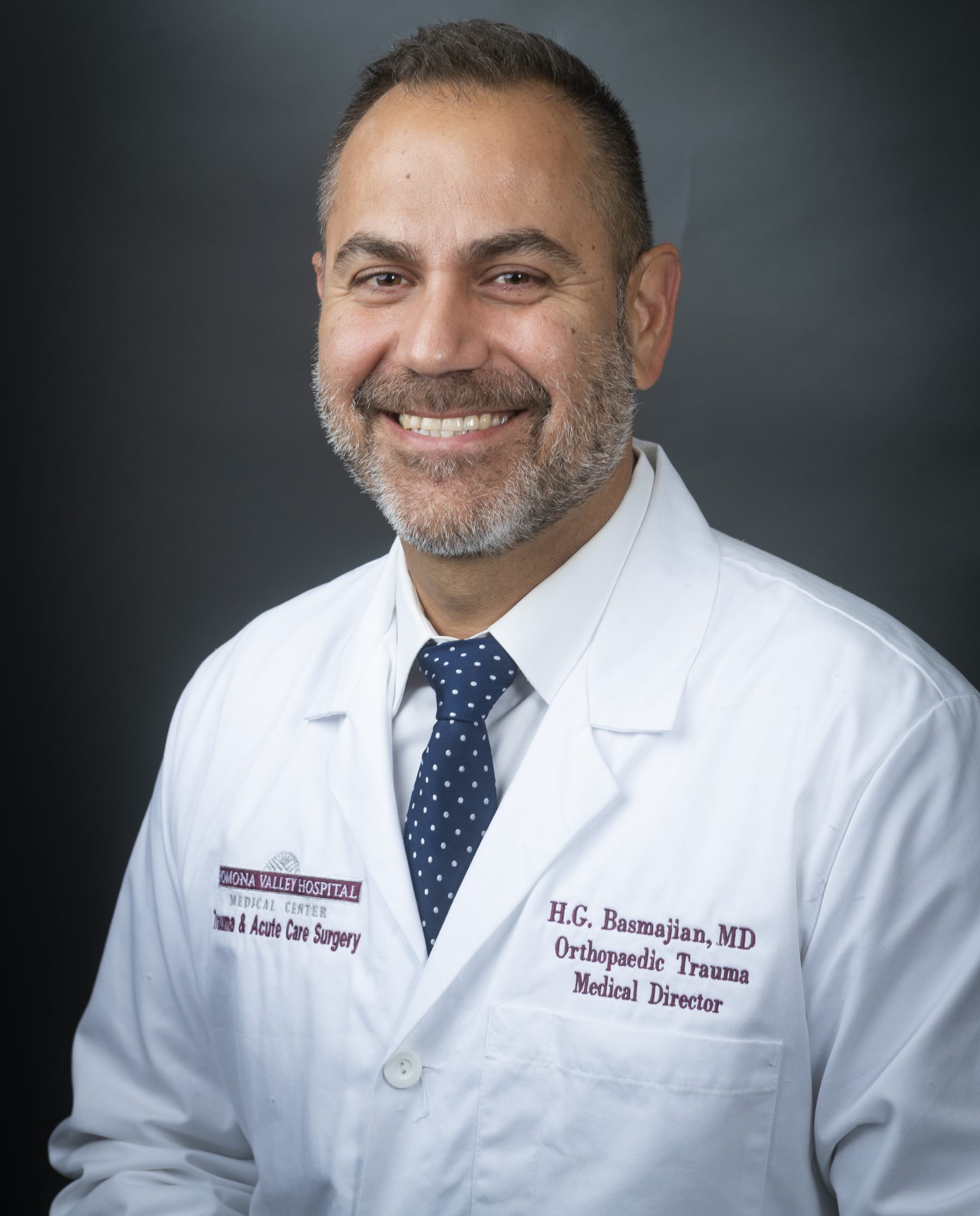 Hrayr G. Basmajian, MD
Cirujano Ortopédico Certificado
Director Médico de Traumatología Ortopédica
Pomona Valley Hospital Medical Center
Profesor Asistente de Cirugía Ortopédica
El Dr. Basmajian fue reclutado en el Centro Médico del Hospital Pomona Valley (PVHMC) desde su puesto anterior como Presidente de Trauma Ortopédico en el Centro Médico de la Universidad de Loma Linda. Fue llevado a PVHMC para ayudar a construir y crear el mejor programa de trauma ortopédico en todo el país. Junto con los cirujanos de cuidados intensivos, trabajan colectivamente para evaluar y mejorar constantemente el programa, de modo que usted, el paciente, pueda recibir continuamente atención de primera clase.
El Dr. Basmajian es mundialmente famoso por dar conferencias y enseñar a otros cirujanos el arte de la atención traumatológica en el campo de la Ortopedia.
Su filosofía para el cuidado del paciente se puede resumir de la siguiente manera: el conocimiento, la compasión y el sentido común se entregan a los pacientes de una manera que ellos puedan entender. Se ha puesto en el lugar de los pacientes y comprende las dificultades asociadas con estar en esa posición. Su objetivo es tomar su amplia educación y entrenamiento de los mejores programas, combinarla con su fe y aplicarla a su situación. Su objetivo es educarlo en el proceso y así facultarlo a usted (el paciente) para determinar el mejor tratamiento para usted, en su circunstancia específica. A veces, esto se administra mejor a través de tratamientos no quirúrgicos y discusiones saludables, y otras veces se realizan mediante cirugía usando la mejor y más reciente tecnología en el quirófano para limitar la morbilidad y mejorar el nivel y la velocidad de recuperación.
Licencia y Certificación
State Board of California
American Board of Orthopaedic Surgery, Board Certified
Specialty
Traumatologia Ortopedica​
Fracturas de las extremidades superiores e inferiores
Fracturas pélvicas y acetabulares
Cirugía de revisión de fracturas
Corrección de la deformidad
Alargamiento de extremidades
Reemplazos de cadera anterior
Cirugía artroscópica
Afiliación
Orthopedic Trauma Association
American Academy of Orthopedic Surgery
Compañerismo en Reemplazo de Cadera y Traumatismos Ortopédicos
Sonoran Orthopaedic Trauma Surgeons, Scottsdale, AZ
Sonoran Hip Center, Scottsdale, AZ
Hannover Trauma Hospital, Hannover, Germany
Residencia en Cirugía Ortopédica
USC/Los Angeles County Hospital, Los Angeles, CA
Escuela de Medicina
The Chicago Medical School, North Chicago, IL
Maestría en Educación
Finch University of Health Sciences, North Chicago, IL
La Educación de Pregrado
Wayne State University, Detroit, MI
Investigación y Educación
El Dr. Basmajian pasa gran parte de su tiempo dando conferencias y enseñando en el campo de la Ortopedia.
Participa todos los años en la reunión de Fractura de Maestros, donde médicos de todo el mundo asisten y discuten sus enfoques sobre lesiones traumáticas complejas.
Ha presentado en múltiples reuniones, incluida la reunión nacional de la Academia Estadounidense de Cirujanos Ortopédicos y la Asociación de Traumatología Ortopédica.
También es miembro de la junta nacional para desarrollar Pautas Basadas en Evidencia sobre el Manejo de Infecciones en Ortopedia.
Ha escrito un libro publicado internacionalmente sobre fracturas acetabulares mínimamente invasivas.
Lista de Investigación
Cunningham B, Zaman S, Basmajian HG, et al. Immediate Weight Bearing as Tolerated has Improved Outcomes Without an Increased Risk of Reoperation after Intramedullary Fixation for Subtrochanteric Fractures Compared to Modified Weight Bearing Protocol.
Podium presentation at OTA 2016, National Harbor, MD
Cunningham B, Basmajian HG, Rhorer AS, Ortega G, Miller B. Immediate weight bearing as tolerated has improved outcomes compared to non-weight bearing after surgical stabilization of subtrochanteric femur fractures.
Podium presentation OTA 2015, Tampa, FL
Podium presentation AAOS 2016, Orlando, FL
Burke C, Epperly S, Dajnowicz W, Basmajian HG, Inceoglu S, Botimer G. Cerclage wiring of long spiral femoral fractures: Fracture simulation and comparative fatigue testing.
Presented at ORS 2016, Orlando, FL
Cunningham B, Swanson D, Basmajian HG, McLemore R, Ortega G. Professional demands and job satisfaction in orthopaedic trauma: An orthopaedic trauma association member survey. J Orthop Trauma. Dec 2015
Scudday T, Basmajian HG, Morrison M, Gocken E. Effect of pilot hole on screw pullout. Presented at annual research seminar Loma Linda  2015.
In submission process
American Academy of Orthopaedic Surgeons Systematic review on Management of Postoperative Surgical Site Infection
Official Appointed member to develop clinical practice guidelines 2015
Rog D, Basmajian HG. A rare presentation of sciatic palsy due to hematoma after use of the kocher–langenbeck approach to the acetabulum. JBJS Case Conn. 2015 Mar 5(1)
Cunningham B, Basmajian HG, Rhorer AS, Ortega G. Immediate weight bearing as tolerated has improved outcomes compared to non-weight bearing after surgical stabilization of midshaft fractures in polytrauma patients. Podium presentation OTA 2014; Tampa, FL
Basmajian HG, Choi PD, Huh K, Sankar WN, Wells L, Arkader A. Radial neck fractures in children: experience from two level-1 trauma centers. J Pediatr Orthop B. 2014 Jul;23(4):369-74
Cunningham B, Basmajian HG, Miller B, Rhorer AS, Ortega G. Professional demands and stress in orthopaedic trauma: An orthopaedic trauma association member survey.
Podium presentation AAOS 2014; New Orleans, LA
Podium presentation OTA 2013; Phoenix, AZ
Liodakis E, Liodaki E, Basmajian HG, Hawi N, Petri M, Krettek C, Jagodzinski M. Pectus excavatum in blunt chest trauma: a case report. J Med Case Rep. 2013;7(1):22
Brandes J, Basmajian HG, Meller R. Prevalence of Fatty Cuff Degeneration in Acute Displaced Proximal Humerus Fractures: A Computed Tomography Study in 100 Consecutive Patients.
In submission process
Jagodzinski M, Min W, Brandes G, Wilbold E, Basmajian HG, Krettek C, Meller R. Anterior cruciate ligament reconstruction during growth prevents early osteoarthritic changes: a study in skeletally immature sheep
In submission process
Basmajian HG, Coracides J, Rhorer AS. Mid-shaft clavicular fractures treated with anterior-inferior plating
Podium presentation SOMOS 2012
Basmajian HG, Choi PD, Huh K, Sankar WN, Wells L, Arkader A. Radial neck fractures in children
Podium Presentation at POSNA 2011
Basmajian HG, Zalavraz C, Hatch GR, Itamura J.  Intra-articular nonunions of the elbow
In submission process
In vivo analysis of segmental lumbar spine motion, studying low back pain and radiographic relationships under the supervision of Dr. An and Dr. Inoue
RUSH University 2005
Basmajian HG. The efficacy of hypertensive control in maximizing dosages vs. increasing number of medications: A retrospective study
Research used to change prescribing practices in Family Practice Residency at Mt. Sinai Hospital, Chicago 2005