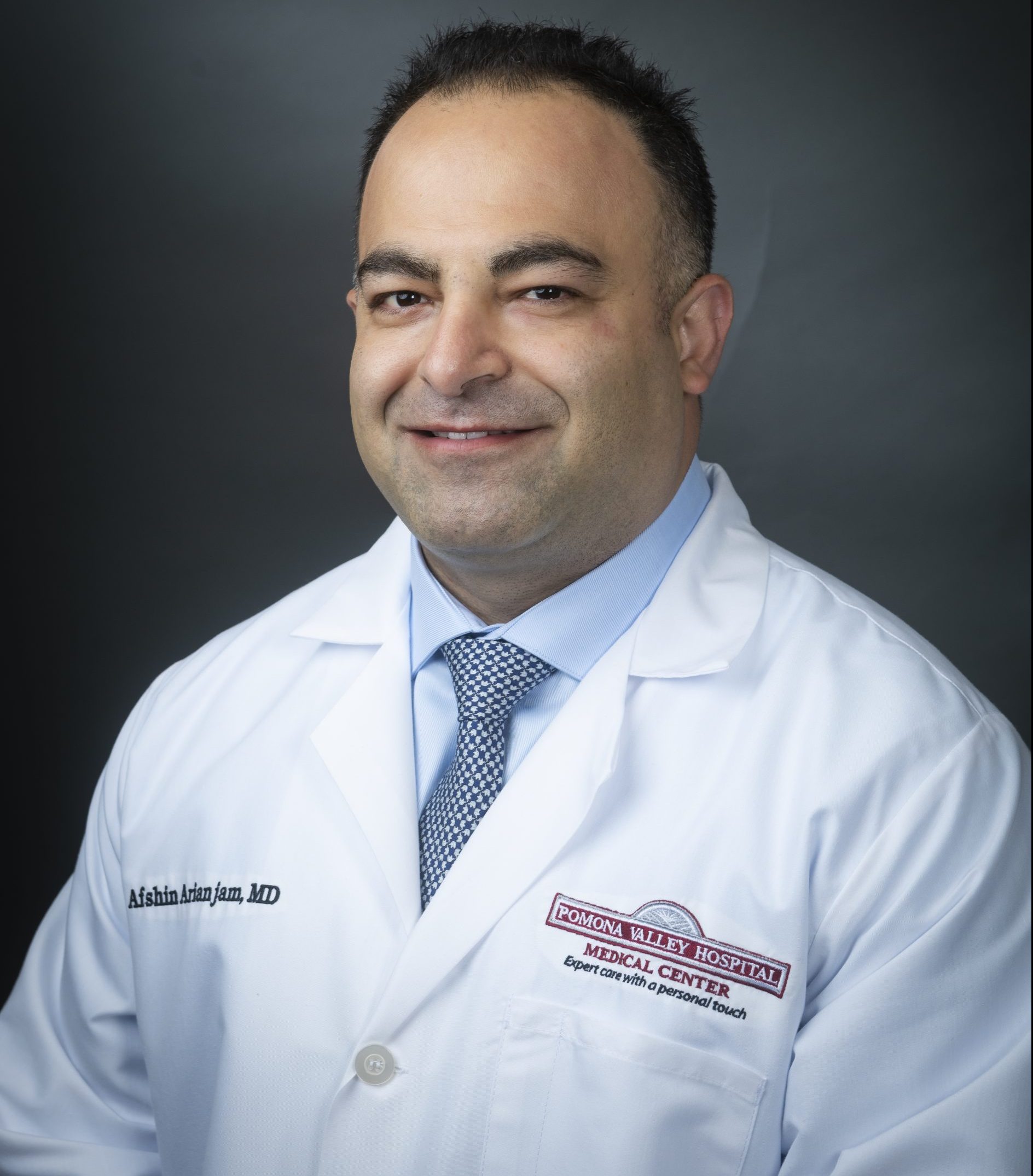 Afshin Arianjam, MD
Board Certified Orthopedic Surgeon
Sports Medicine, Fellowship-Trained
Arthroscopy and Reconstruction
Shoulder | Hip | Knee
Dr. Arianjam is a Board Certified Orthopedic Surgeon who specializes in Sports Medicine, Arthroscopy, and Joint Replacements. He graduated as a Renaissance Scholar magna cum laude at the University of Southern California. He attended Keck School of Medicine at USC to finish his medical training before going to the San Francisco Orthopedic Residency Program. He then returned to Southern California to complete his surgical training with a fellowship in Orthopedic Sports Medicine at Kaiser Permanente Orange County. Throughout his career, his passion in sports medicine has led him to serve as team physician and provide care for various athletes in the Bay Area Orange County, and the High Desert. As part of his fellowship, he helped care for the Los Angeles Angels of Anaheim baseball team, as well as student athletes at the high school and university level. In addition to treating ligamentous and soft tissue injuries, he is well versed in the latest cartilage restoration techniques. He is certified to perform Autologous Chondrocyte Implantation (ACI) as well as cartilage transplantation procedures, and has experience with Platelet-Rich-Plasma (PRP) and viscosupplementation injections. As part of his continuum of care, when joint preservation options are exhausted, he is also adept at performing reconstructive surgeries and joint replacements.
Dr. Arianjam prides himself on his excellent bedside manner, attention to detail, and staying current with the latest research.
Many orthopedic injuries can be treated with nonsurgical remedies including physical rehabilitation exercises and medication. Dr. Arianjam helps guide and educate patients to make the right decision on their treatment.
As a native of Southern California, he is excited to be close to his childhood home and care for athletes and patients in his local community. Dr. Arianjam enjoys spending time with his growing family. He likes to stay active; his hobbies include hiking, biking, and playing recreational sports.
Specialties
Arthroscopy
Anterior Cruciate Ligament (ACL) reconstruction
Acromio-Clavicular (AC) Joint Reconstruction
Cartilage Repair
Collateral Ligament Reconstruction
Endoscopic Minimally Invasive Carpal Tunnel Release
Knee Replacement (Total Knee Arthroplasty)
Meniscus Repair
Percutaneous Trigger Finger Release (in-office)
Rotator Cuff Repair
Shoulder Replacement (Total Shoulder Arthroplasty)
SLAP Repair
Licensure and Certification
State Board of California
American Board of Orthopaedic Surgery, Board Certified
Memberships
American Academy of Orthopedic Surgery
California Orthopaedic Association
Education
Fellowship in Orthopaedic Sports Medicine
Kaiser Permanente Orange County, Irvine, CA
Residency in Orthopaedic Surgery
San Francisco Orthopaedic Residency Program, San Francisco, CA
Medical School
University of Southern California, Los Angeles, CA
Undergraduate Education
University of Southern California, Los Angeles, CA
Research and Education
Dr. Arianjam has also performed considerable clinical research. Alongside one of the pioneers of shoulder arthroscopy, his work includes a 10-year follow­up study on the outcomes of the arthroscopic remplissage, a now widely-used procedure for shoulder instability. His most recent publication features work with a national community­-based ACL registry to identify which techniques give patients the best outcomes for Anterior Cruciate Ligament Reconstruction. He continuously strives to practice medicine and surgery with the most current evidence­-based literature.
List of Research
Analysis of 2019 Patients Undergoing Revision Anterior Cruciate Ligament Reconstruction From a Community- Based Registry.
Arianjam A, Inacio MCS, Funahashi TT, Maletis GB.
Am J Sports Med. 2017 Apr 1:363546517700882. doi: 10.1177/0363546517700882. [Epub ahead of print]PMID: 28426243
Radiographic failure and rates of re-operation after acromioclavicular joint reconstruction: a comparison of surgical techniques.
Spencer HT, Hsu L, Sodl J, Arianjam A, Yian EH.
Bone Joint J. 2016 Apr;98-B(4):512-8. doi: 10.1302/0301-620X.98B4.35935.
PMID: 27037434
Outcomes for intra-substance free coracoid graft in patients with antero-inferiorinstability and glenoid bone loss in a population of high-risk athletes at a minimum follow-up of 2 years.
Arianjam A, Bell SN, Coghlan J, Old J, Sloan R.
Shoulder Elbow. 2015 Jan;7(1):36-43. doi: 10.1177/1758573214557147. Epub 2014 Oct 30.
PMID:27582955
Hill-Sachs remplissage, an arthroscopic solution for the engaging Hill-Sachs lesion: 2- to 10-year follow-up and incidence of recurrence.
Wolf EM, Arianjam A.
J Shoulder Elbow Surg. 2014 Jun;23(6):814-20. doi: 10.1016/j.jse.2013.09.009. Epub 2013 Dec 2.
PMID: 24295834
Biomechanical comparison of interference screw and cortical button with screw hybrid technique for distal biceps brachii tendon repair.
Arianjam A, Camisa W, Leasure JM, Montgomery WH.
Orthopedics. 2013 Nov;36(11):e1371-7. doi: 10.3928/01477447-20131021-17.
PMID: 24200440
Simplified diagnostic algorithm for Lauge-Hansen classification of ankle injuries.
Okanobo H, Khurana B, Sheehan S, Duran-Mendicuti A, ArianjamA, Ledbetter S.
Radiographics. 2012 Mar-Apr;32(2):E71-84. doi: 10.1148/rg.322115017. Review.
PMID: 22411951